Testimonials From Our Clients

"Sam and his team are great! They continuously monitor our network and computers for any problems... For example, I recently got an email... letting me know about a server issue that happened at 2:15am. His team had already logged onto our systems and fixed the problem before 6am that morning!"

--Dr. Peter Norris, D.D.S. - All Smiles Dentistry


"DSTech provides excellent service for Top Coat, Inc. We have virtually no "down" time as they take care of most issues after our normal business hours. On the rare occasion when we do have a problem , they rapidly respond and get it resolved quickly."

--Donna Hayes, Top Coat Fabrication Offshore Services

"Sam and his team at DSTech Solutions have been a blessing to our operations. Sam sends me monthly reports identifying potential problem areas... On a couple of occasions this past year we have lost critical accounting information but they were able to recover everything and we were back up and running almost immediately!"
--Jackie Fuller - Pregnancy Help Center
"Sam and all the folks at DSTech have treated us like family. They really take a personal interest in making sure everything in our company is working well, as though it were their own business. They have been really responsive to our calls... Recently we had an emergency situation and they had us back up and running in 30 minutes!"
--Russell Burnett - Best Insurance Services
"DSTech Solutions helps my business navigate the rules to keep us HIPAA compliant... [their] proactive approach and quick response time is the perfect prescription for any business."

--Dr. William Sweatt - Gulf Coast Gastroenterology, PA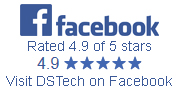 Contact Us
Today with Questions or to Schedule a Free Consultation
(832) 975-1825
support@dstechsolutions.com