New Year Special - $500 off Business Server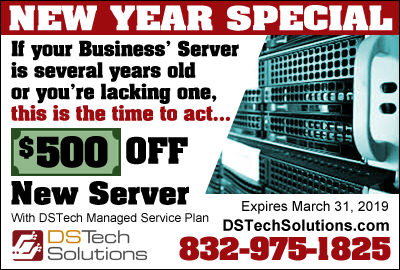 Many businesses lack the performance and security of a server. Those that have servers over five years old may be in danger of critical failures, lacking features, and security holes. Take advantage of this time-limited offer of $500 off your new server, as a part of a DSTech service plan today. You can begin with a no-obligation, no-risk, free consultation on your business' technical needs. Simply
contact us
to schedule your assessment.
(expires March 31, 2019)
No comments
Leave a reply
Subscribe to DSTech News for your business today...
DSTech News is a service we provide to our clients and other businesses, as a way to help you avoid expensive downtime and increase productivity. It is recommended that the DSTech point-of-contact and the manager or owner be subscribed to stay up to date on security alerts and other tips and notices.