Free Business Phones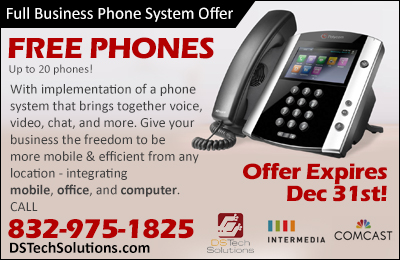 Until the end of 2018, DSTech Solutions is offering to provide your business phones for free (up to 20), with implementation of our Intermedia phone system. Give your business the freedom to be more mobile and efficient from any location, integrating mobile, office, and computer.
Display your business phone number on caller ID while using your personal cell
Get your calls from any device anywhere
Brings together voice, video, files, meetings, and chat

And more!
Expires December 31, 2018

Contact us today by calling 832-975-1825 or through our website to take advantage of this offer
No comments
Leave a reply
Subscribe to DSTech News for your business today...
DSTech News is a service we provide to our clients and other businesses, as a way to help you avoid expensive downtime and increase productivity. It is recommended that the DSTech point-of-contact and the manager or owner be subscribed to stay up to date on security alerts and other tips and notices.